Chris Kanakis was a photographer/reporter in the History Channel's - The Men Who Built America series. Here are stills of him featured in the Rockefeller court trial scene.
My recent time on set of the new mini-series "Men Who Built America" for the History Channel has prompted me to want to feature a few photos of my "Young, Gifted & GREEK" ancestors. These three individuals were good-looking, fashion forward, classy, upstanding and hard working Greek-Americans who fought hard for everything they had in life... including respect. Their story of being immigrants from Greece and 1st generation Greek-Americans is truly an inspiration to me and exemplifies what it really means to be "Young, Gifted & Greek". Everyday I try to live up to the standards and values they passed down to us. I hope I can accomplish as much in my life as they did theirs and that my time will be a gift for the next generation.
---------------------------
Notice the very current suit my Great Grandfather is MODELING. Belt loops on suit pants were a VERY NEW fashion that started in 1914 due to the war (and with a lower waist too at that). He also has a military like low fade hair cut probably inspired by his time serving in the army in Greece. He is wearing a narrow cut tie inspired by the recent popularity in COWBOY films that started in that period. The Jacket that my Great Grandfather has was also a cutting edge fashion as it had less buttons and they also didn't go up as far. Between the gold watch, pin on tie and pockets on the top of the pants with SNAPS... you get 1 very HIP CAT even by today's standards. Even though I did not inherit that awesome suit... many have told me that I inherited his looks!
"NICK" GREAT-GRANDFATHER of Chris Kanakis
circa 1915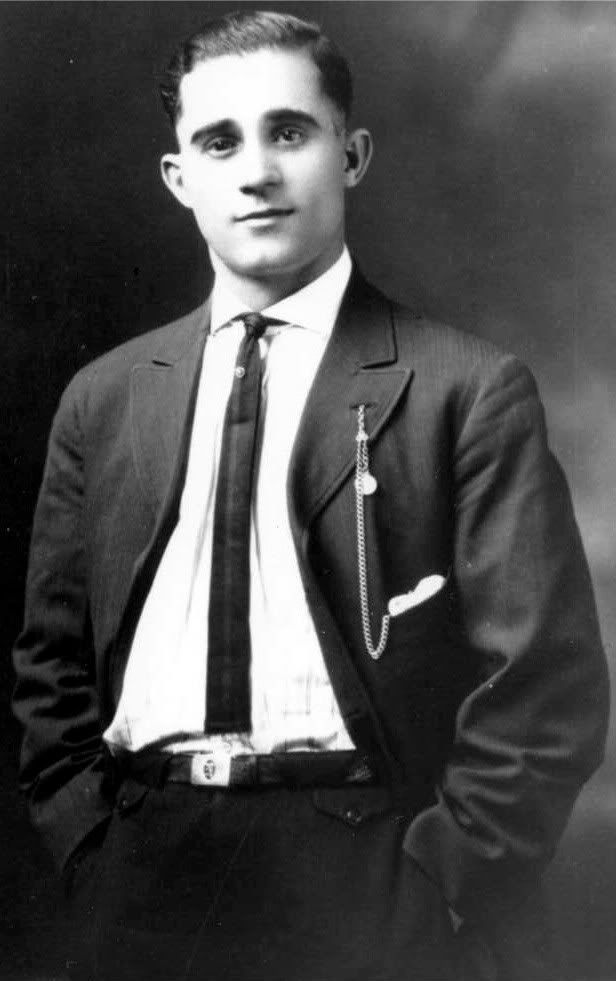 ----------------------------
My Grandfather served as a COOK in the UNITED STATES NAVY. Even though he died long before I was born, his legacy of love, dependability and loyalty to both his family AND the United States of America are ethics that still live within his family.

Phillip-Grandfather of Chris Kanakis.
---------------------------
Pauline aka YIAYIA of Chris Kanakis (Yiayia is Greek for Grandmother)
in early 1950's
Pauline aka YIAYIA of Chris Kanakis with her serious, professional business woman look
in 1951. A very big statement for women in the early 1950's!
*click to enlarge
--------------------------